12 Hot Trends for 2014 Web Design
Now that we are well on the way into 2014 and we've had time to consolidate our thoughts and ideas on the year ahead, we've decided to compile a list of our top twelve web design trends to watch out for over the coming months.
As is the same for any creative discipline, trends and fashions change all the time in the web design industry and if you want your website to keep up to date and relevant, then you need to know how these trends are changing. And trends can change fast: over the years web design has gone through numerous phases, many perhaps best left behind (like bevel and emboss fonts, gloss effect buttons and excessive cursive text) but others have stood the test of time and remain relevant even in 2014 so without further ado, here's our top 12.
1.Typography with personality..
Such as handwriting style typography (like the one pictured below), flat typography and mixed typography. Typography is at the top of our list of trends for 2014 because and search engine optimisation, social media and user experience is all starting to rely more and more on quality content, much of that text based, making it stand out and make a statement visually is going to become a bigger and bigger aspect of overall website design. So expect to see some exciting things. We'll be pinning our favourite fonts and typography to our dedicated Pinterest Board.
2.Flat design (think ios7 and Windows 8)
Flat design really began taking off in 2013, perhaps most notably with Apple's redesign of their iOS operating system, which took flat design almost to the extreme. We're expecting this trend to continue throughout 2014 and possibly even into 2015, so it could well be worth giving your website the flat design treatment if you want to keep it looking trendy. The main characteristics of a flat design are:
The lack of added effects (drop-shadows, gradients – basically anything that adds depth).
Simplicity and minimalism
Typography and colour take center stage
Here's one example of flat design.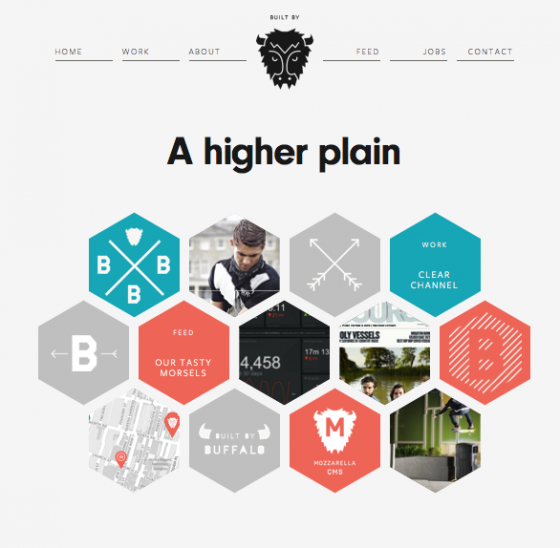 3.Mobile friendly
The one should really come as no surprise, but sadly, having a responsive design or a mobile site doesn't automatically make your website mobile friendly. We're expecting 2014 to take designing for mobile to the text level as user experience becomes ever more important and PC use continues to decline. This means considering things like content as well as layout if you're aiming for success on these devices. Take a look at these mobile designs gathered together by Econsultancy if you need a little inspiration.
4.Videos instead of text
As videos become easier and easier to both produce and share, you can expect to see them start appearing on website homepages in particular. We think video could be one solution for effectively presenting information to already content overloaded users. After all, why would you want to read reams and reams of text when you can just watch it instead?
5.Long scrolling websites
Long scrolling websites do exactly what it says on the tin and a great example is this one which explains the film Inception. As more and more people arrive on sites for mobile devices, simple navigation will begin to take center stage and what could be more simple than just scrolling in one direction?
6.Simple colour schemes
In line with expecting flat design and simplicity to lead they way in 2014, so two with minimalistic colour schemes. Keep an eye out for websites using a combination of just one or two contrasting colours and in extreme cases maybe even just monotones.
7.twitter style content
Again, to appeal to content overloaded users we think websites will begin stripping back text into smaller, bite size pieces allowing content to be consumed quickly and efficiently. This will also help the user experience on mobile sites where of course, the screen is smaller and space more valuable. So in 2014 140 character snippets could very well take over.
8.More Hero images
As text gets limited to smaller and small chunks what better to fill the remaining space than some lovely, big images? Or more specifically hero images. (A hero image for anyone wondering, is literally just a large image, sometimes overlaid with text, that takes up the introduction portion of a webpage, as such it's often the first element after the navigation and is well above the fold). We've already been experimenting with hero images for a couple of our clients to give impact to the homepages as you can see here:
9.Minimal navigation
While not all websites will resort to long scrolling in 2014, we do expect the majority to design more simplistic navigation than we have seen in 2013. This could be achieved in a number of different ways and as designer strive for an ever more satisfying user experience, we could see some really exciting things here. Creative Bloq has already pout together some excellent examples of websites with simplified navigation.
10.Manipulated imagery
Just like we're expecting typography to be a little more daring and unusual in 2014, we're also expecting images to undergo transformations in 2014 too. We're predicting this due to the continually increasing popularity of photo editing apps such as Instagram.
11.Web development magic: animations, parallax scrolling etc.
As web development languages, mobile operating systems and technology in general continues to advance, we're expecting web design to advance too. That means designers and web developers pushing their own capabilities to deliver that extra little bit of  flare to their project. As such, we're predicting more more sites appearing in 2014 that make use of parallax scrolling, like this one or animations, like this one.
12.Micro UX and attention to detail
And last but certainly not least, our final prediction for the web design of 2014, is that there will be an increased focus on micro UX. Micro UX is the focus on the usability concerns associated to a single action, for example unlocking your smartphone. Up to now focus has been on providing users with a great experience overall and as designers have become better and better at doing just that, it's time to start focusing on the details, and that's what we think many with do throughout 2014. And there you are, those are our top 12 predictions for web design this year, do you have any predictions of your own to add?